Spring in Ireland begins from February 1st to May 31st. Spring lasts four months, unlike in Spain that lasts 3 months. During this period Ireland is flooded with bright colours, warm and sunny weather and landscapes painted emerald green, dotted with yellow wild daffodils everywhere you look. The houses display their front gardens filled with multi-coloured flowers that their owners love so much.
Spring begins with temperatures of approximately 12ºC, however, with the passing of the season, they increase, and in mid-May temperatures of approximately 17ºC are reached, even 20 or 23ºC sometimes, which make the Irish rush to the coast to enjoy the sun and its beaches, some with amazing cliffs and others with white sand.
The landscapes change colour in Ireland, with flowers such as narcissus, clover and rapeseed, which make the fields magical and colourful places. Therefore, spring is one of the best seasons to visit Ireland, especially if you are looking for nature and tranquility. During the months of May and June, the Irish take advantage of the good weather to practice activities such as golf, kayaking, bike tours or fishing.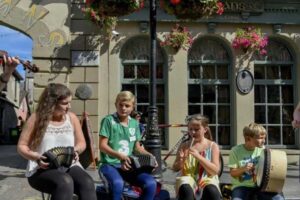 On the other hand, and due to the better weather enjoyed in these months, cities also offer fun and entertainment, for example in the city of Ennis, in County Clare, the Fleadh Nua Music Festival is held in May, packed with concerts, Celtic music recitals, Irish dance competitions and street entertainment, offering all visitors the opportunity to experience traditional Irish music culture.
If your goal is to learn English and once you know a place as splendid as the Emerald Isle, Ireland-Experience is your solution. You can find out about the programs we offer on our website, do not hesitate to contact us.