Host families often take our students on excursions to the beaches near Cork, organizing excursions with them on the weekends. I dedicate this blog article to the amazing Irish beaches that you will surely love.
Ireland has thousands of miles of coastline, some of which are considered among the most beautiful in the world. It is approximately 6,000 km in total and is bordered by the Atlantic Ocean to the west and the Irish Sea to the east.
Ireland's beaches are one of the main attractions that bring tourists to this lush green country. You can find hidden coves, with transparent waters and extensive white sand beaches, but it must be recognised that the Atlantic Ocean causes the waters to be cold and not as warm as in Spain.
In recent years Ireland has become a very popular destination for some of the best surfers in the world. The west coast of the country is a paradise for surfers. On the west coast is where you can find the best beaches for surfing. Strandhill or Bundoran are two of the best known to surfers around the world and are situated on the west coast.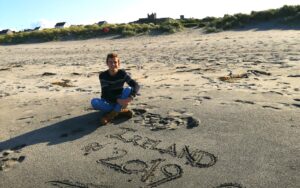 County Kerry is known for its wonderful beaches, many of them with amazing cliffs surrounded by nature where you can go hiking, and golf. In some you can practice water sports such as sailing, kayaking, paddle surfing and also enjoy a day of fishing.
Finally, we want to mention the beaches near Cork, which are the ones our students will visit. Crosshaven, Fountainstown Beach, Kinsale & Myrtleville Beach are sandy beaches where our students can enjoy sunny days.
Don't miss the fantastic Irish beaches on your trip abroad, Ireland-Experience will guide you on your adventure through the Irish lands and waters !!